2022 UEF Alumni Golf Tournament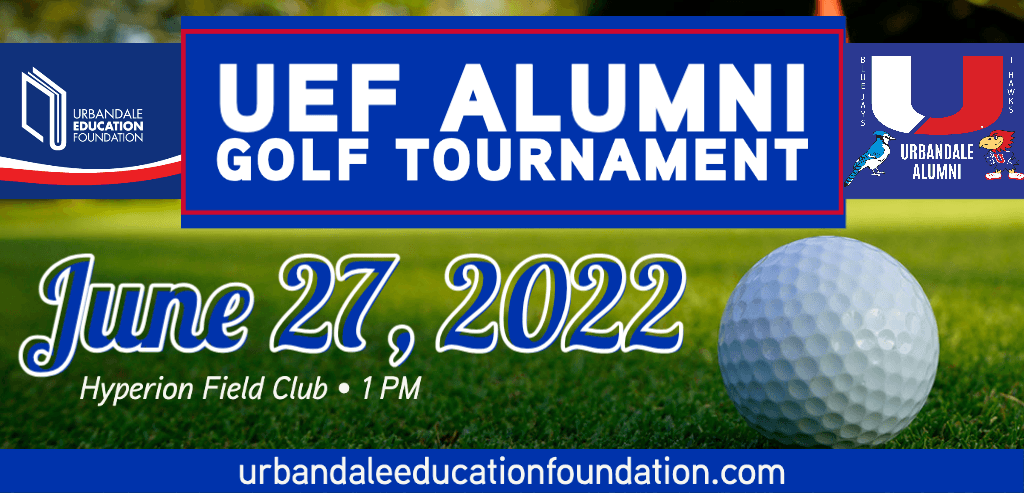 The Urbandale Education Foundation and Urbandale Alumni Association are excited to announce that this year's UEF Alumni Golf Tournament is slated for Monday, June 27, 2022, at Hyperion Field Club.
This event is an annual fundraiser that raises money to support student scholarships and classroom grants throughout the Urbandale Community School District, providing funds for projects and initiatives not supported within existing school budgets. Last year's golf tournament raised over $24,000 thanks to generous donations by participants and community members and through sponsorships from businesses and professionals. 
UEF awarded $16,000 for classroom grants in 2021 to Urbandale educators and $26,000 for scholarships to Urbandale students.
"The UEF Alumni Golf Tournament is one of our biggest fundraising events, and it is one I look forward to every year," said Marty Trepp, board member of the Urbandale Education Foundation and director of the UEF and Alumni Golf Tournament. "This tournament is a great opportunity for our community to come together and make a difference in the lives of Urbandale students, teachers and staff and experience so much fun in the process."
---
Tournament Schedule
The tournament will take place on Monday, June 27, 2022, at the Hyperion Field Club (7390 NW Beaver Drive, Johnston, IA 50131). It will consist of a 4-person Best Shot (18 holes). If numbers merit, we'll offer women, men, & co-ed flights.
The schedule is as follows:
12:00 p.m. Registration
1:00 p.m. "Shotgun" Start
6:00 p.m. Reception, Dinner, and Celebration
(Please make note of the 1:00 p.m. start time. A box lunch (sandwich/chips) will be provided during registration with dinner provided following golf. We're looking forward to a great day!)
How To Register
Option 1: Register Online
Click here to be taken to the online registration page
Option 2: Register Via Mail
Please complete the Registration Form and return with your payment enclosed. Checks payable to:
Urbandale Education Foundation
3311 100th Street, PO Box 42513
Urbandale, IA 50323
Attn: Golf Tournament
Registration Fees
You may enter as a team of four, or enter as an individual and you will be assigned a team. Registration fees include golf and dinner at $150/person or $600/foursome. You may also choose to attend the dinner and not golf, the registration fee for dinner is $50/person.
Entry Due Date
The tournament will be limited to 144 golfers. Entries must be received by Friday, June 10.
---
SPONSORSHIP OPPORTUNITIES
Sponsoring the tournament is a fantastic way to increase brand awareness for your business/organization as well as make a valuable, tax-deductible contribution for a great cause!
How To Become A Sponsor
Option 1: Online
Click here to be taken to the online sponsorship form
Option 2: Via Mail
Please review the Sponsorship Opportunities for full details.
---
SILENT AUCTION AND/OR RAFFLE PRIZE DONATION
The silent auction and raffle was a huge success last year and we couldn't have done it without the generous donations by all of you! If you would like to donate an item (or 2 or 3!) to the silent auction or raffle, please email Marty Trepp and Aaron Young.
---
CALLING ALL VOLUNTEERS
If you would like to volunteer the day of the tournament, we would LOVE to have you join us. Please email Marty Trepp and Aaron Young and provide your name, phone number, best email address to reach you, and the time frame you're available that day. We'll be in touch as we get closer to the tournament!
---
TOURNAMENT CONTACTS
All proceeds go to the Urbandale Education Foundation. If you'd like more information or have any questions, please contact Marty Trepp and Aaron Young.
We look forward to welcoming you!