Please join us Saturday, Sept. 23, 2023 at the Stoney Creek Hotel for the UHS Distinguished Alumnus Award and Celebration! Doors open at 5:30 p.m.
The UHS Distinguished Alumnus Award and Celebration Committee is a sub-committee of the Urbandale Alumni Association and made up of seven volunteer Urbandale High School alumni. We are a 501(c)(3) nonprofit part of the Urbandale Schools and Alumni Foundation. This committee was organized to plan, promote and execute a new event which would include a nomination and selection of an Urbandale alumni for their distinguished contributions to the community with award presentation and a fundraising event with proceeds going towards Urbandale High School scholarships.
The Urbandale Alumni Association mission is to connect alumni, supporters and community by promoting a sense of pride and engaged participation through programs, education and student scholarships and we are hoping we hit all the marks in this event!
Congratulations to Michelle Wright, Class of 1975, for being named the 2023 Distinguished Alumnus of the Year!
Learn more about the nomination and selection process here.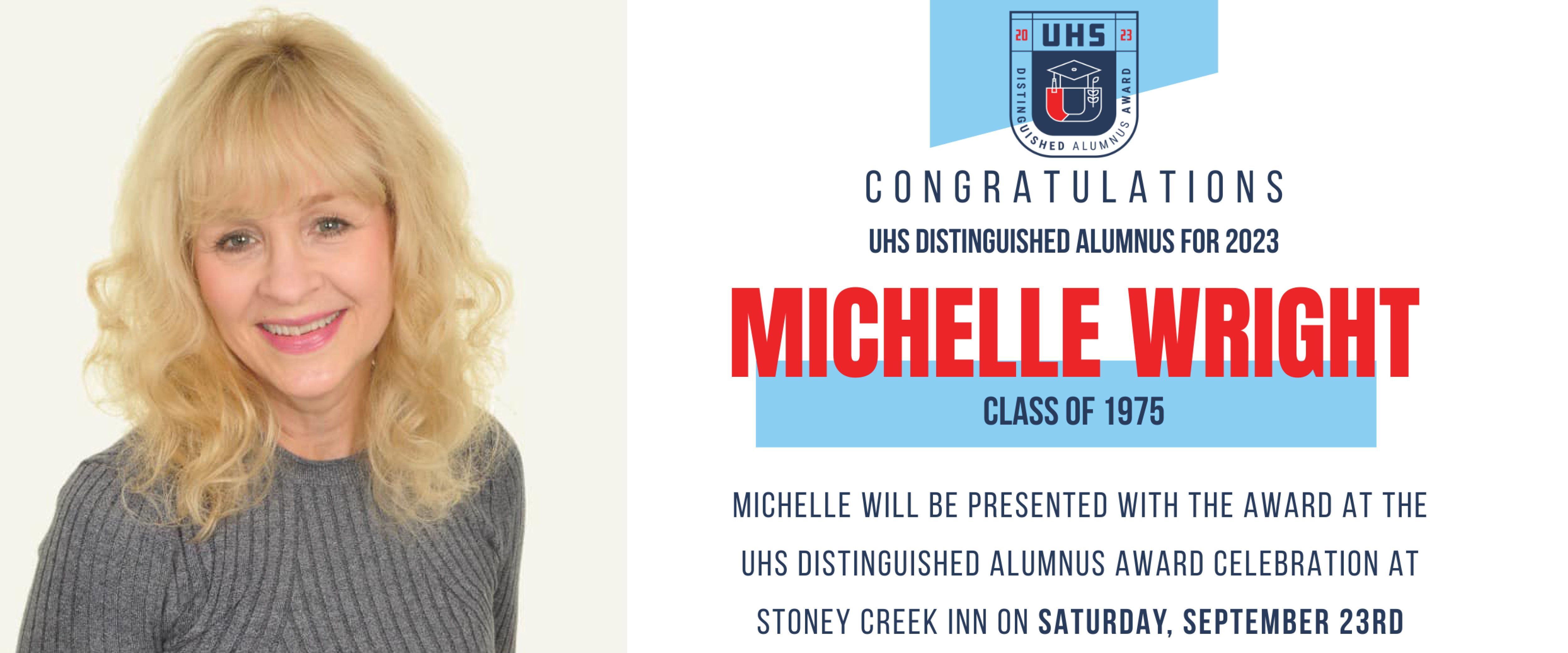 ---
Ticket Information
Tickets cost $50/person, which includes presentation of the UHS Distinguished Alumnus Award, buffet dinner, virtual silent auction and dessert auction. Cash bar will also be available. Please visit the Online Registration Form to buy your tickets today!
---
Virtual Silent Auction
The virtual silent auction begins at 8:30 p.m. Monday, Sept. 18, and runs through 8:30 p.m. Saturday, Sept. 23.
Access Virtual Silent Auction >
Please contact Debi Spiller or Ashley Dhainin Sales at uhsawards2022@gmail.com.
---
Monetary Donations
If you would like to make a monetary donation for Urbandale scholarships, please visit the Online Donation Form.
Thank you for your support!
---
Sponsorship Opportunities
A variety of sponsorship opportunities for this event are available! Please visit our Online Sponsorships Form for more information. 
Check Out Photos From Our 2022 Celebration!
Distinguished Alumnus Award Celebration